Link to Facebook Auction:
Thank you everyone who participated in our Online Facebook Auction Fundraiser!!!
---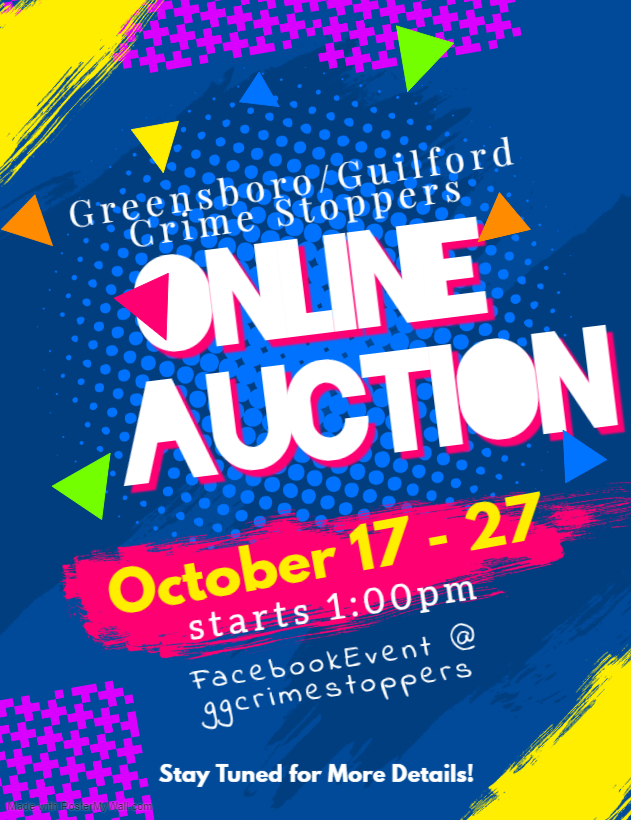 The 3rd Annual Greensboro/Guilford Crime Stoppers Online Facebook Auction is now LIVE and will run until 1pm on October 27th!
All items will be posted in the Facebook Auction Album on our page and will contain item details and pick up options. An opening bid will also be noted. Your bids should be shared in the comment section – in $5.00 increments only. Winners will have a comment placed on their highest bid notifying them of their win and will be contacted through a Facebook message to arrange payment. All items must be paid for in full within by Monday, October 31st at 1pm. If payment is not received within that time frame, the 2nd to the highest bidder will by default be selected as the winner and notified to pay for their item.
All auction items are donated which means 100% of the money raised will help our program continue to pay cash rewards for information that helps law enforcement solve and prevent crime in Guilford County. We pay up to $5,000 for anonymous tips and your support is more important than ever.