History of the Greensboro/Guilford Crime Stoppers Program
The concept for a reward based tip system originated with the Greensboro Jaycees after member Carter Pate observed a public service message while in Atlanta, Ga.

The Program debuted as Crime Alert with a collaborative effort of WFMY-TV and UNCG's Drama Department, with the Jaycees providing the initial funding.

The first Crime Alert was seen on WFMY-TV and was a 90 second spot dramatizing the slayings of Tommy Dale Ausley (18) and Freddie Eli Pacheco (19). Their bodies were found on October 19, 1979 in the rear of a sub-compact car parked on Causey Street, which belonged to Mr. Ausley's mother. Ausley was shot once and Pacheco twice. The 90 second dramatization of the crime was aired six times on January 22, 1980 and January 23, 1980. It was shown again on January 24, 1980 on the Lee Kinard Show on WFMY-TV. On January 25, 1980 the police department informed Carter Pate that they had received a call from an informant that provided names of possible suspects. The names that were provided matched fingerprints which had turned up during the investigation. As a result, the police arrested Jimmy Frazier Eanes (19) and Keith Allen Way (19). Four additional warrants were issued on this case.

By July of 1980, the Greensboro Police Department was interested in replicating the Crime Stoppers program that was started in Albuquerque, New Mexico. Chief Swing, Colonel Walter "Sticky" Burch (who at age 102 is still a board member) and Captain Thomas worked with Detective Dean Harris to gather information on creating a similar program in our community. Det. Harris findings were well received when presented them in November.

The main concept of the new program was to overcome the community's reluctance to work directly with law enforcement. Offering anonymity and a reward for information, Crime Stoppers is a private non-profit that utilizes communication to bridge the gap between the community and law enforcement.

Working with the Greensboro Jaycees, Guilford Merchants Association and the Greensboro Chamber of Commerce, the Police Department formulated a plan to begin a Crime Stoppers program in Greensboro.

In December 1980

,

Chamber of Commerce Treasurer Bob Moore appointed Mr. Jack Zimmerman as the Chairman and Mr. Dough Cross of First Union National Bank, also a Jaycee member, as the Vice-Chairman. Greensboro Jaycee VP Dave Maraghy announced the merger of the Jaycee's Crime Alert into Greensboro/Guilford County Crime Stoppers Program.

On January 21, 1981, Greensboro/Guilford County Crime Stoppers Inc. was incorporated as a non-profit organization.
Awards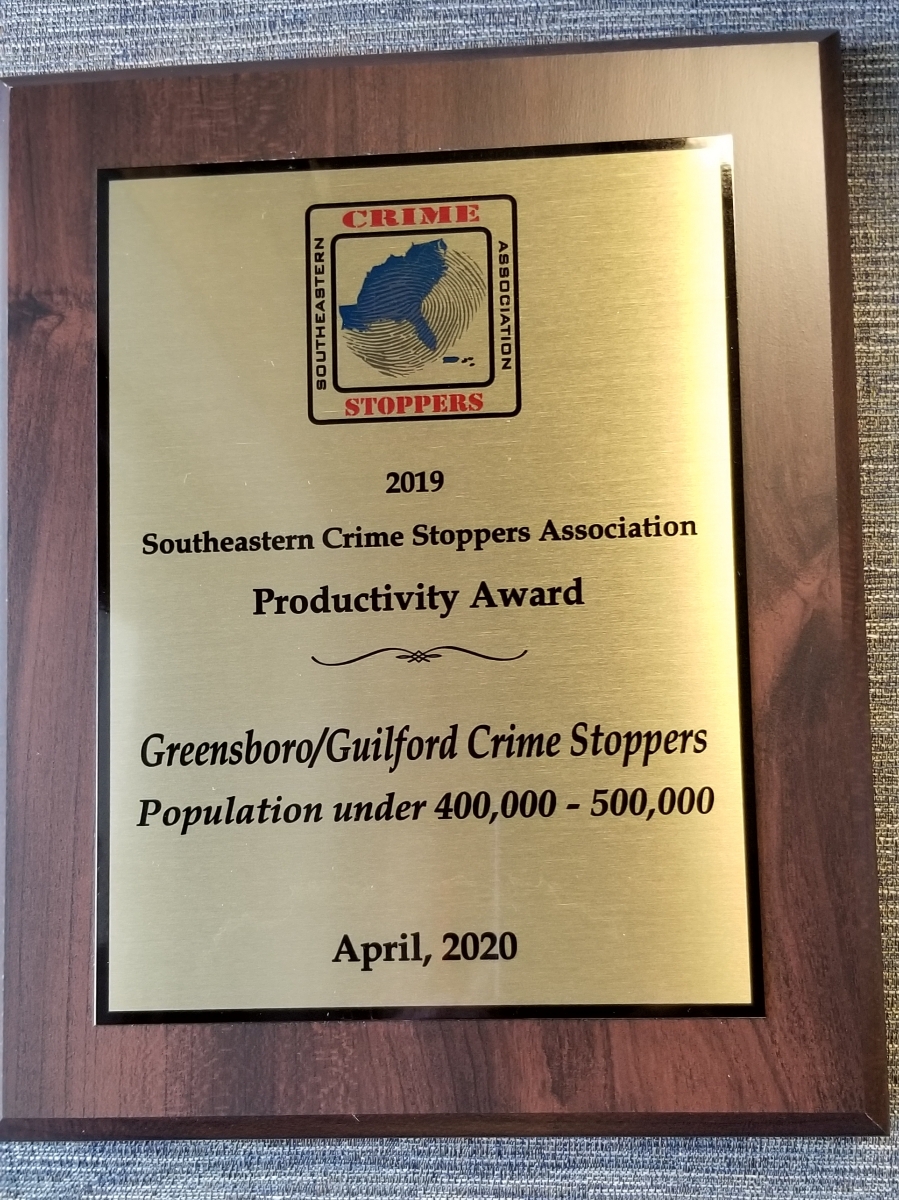 Southeastern Crime Stoppers Association:
2006-2009 Productivity Award
2011 Media Award of Year – Fairway Outdoor Advertising, for digital displays of Mondays Most Wanted
2011 Productivity Award, Population 300,000-400,000
2012 Most Creative Advertising, Placement of new Logo on CSI Vehicles
2012 Citizen of the Year, Harold Moag, Board Member
2012 Productivity Award, Population 300,000- 400,000
2013 Media of the Year Award – Clear Channel, Media & Entertainment, Advertising fundraisers as well as awareness of program
2013 Productivity Award, Population 300,000-400,000
2014 Coordinator of the Year – Rebecca Fallon
2014 Productivity Award, Population 300,000- 400,000
2015 Most Innovative Fundraising, Golf with a Twist – shooting golf balls from an AR15
2018 Productivity Award, Population 400,000 – 500,000
2017 Most Innovative Fundraising, "Come Cruise With Us"
2019 Productivity Award, Population 400,000-500,000
2020 Productivity Award, Population 400,000-500,000
2020 Most Innovative Fundraising, Virtual Reverse Raffle and Online Auction
2020 Media of the Year Award, Greensboro Television Network
North Carolina Crime Stoppers Association
:
2010 Best Promotional Idea

20

11 Best Promotional Idea

Digital Advertising

2011 Board Member of the Year

2012 Best Promotional Idea

2014 Productivity Award

2014 Board Member of the Year

2015 Best Promotional Idea

2015 Productivity Award

2017 Program of the Year

2017 Board Member of the Year

2017 Productivity Award

2018 Board Program of the Year

2019 Board Member of the Year

2019 Productivity Award

US Department of Justice – Federal Bureau of Investigation

2009 Directors Community Leadership Award

2019 Chief's Award for Gun Stoppers - Greensboro Police Department